Soooo, we heard about this moon party up in the hills on the island. "Blue Moon Experience- dance for peace" and we thought: "oh that could be cool seems like a full moon party but more relaxed". So we sat down at our porch, had a few beers to get the party vibe up. About 11pm we decided to go to the party, it was like 20 min walk up a very very steep hill but we made it. We paid the entrance, asked the guy if it was many people inside and he said: "yeah yeah yeah many people,party". So we walked in and were surrounded by awesome neon lights and decorations, loud drum'n'base music but NO people. It was like 15 people hanging around sitting in the corners and no one dancing.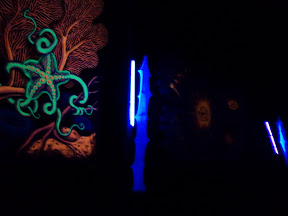 We bought a bucket of red bull vodka, sat down and said to each other that it might be too early still, let's just give it some time and more people will come to party until dawn. So we sat around drinking, talking and chilling for a while. Then we decided, fucking hell, let's have a little nap so we can party all night long when it's more people around.
We woke up about 4am. The crowd were dancing but it was only like half of them left. The party never really started before it ended and we only got a nice little nap and like one million mosquito bites out of it. What a FAIL!
Xx
Location:Magical garden, Koh Tao